When you consider your pet to be an important part of your family, it makes sense that you want to consider its needs before you remodel your kitchen. Your remodeling project ideally should make it easier for all of your family members, including your cat, dog, or other fur companion to spend time in this room without being at risk of being hurt or inconvenienced. As you consider what ways you want to alter your kitchen, you can incorporate these pet-friendly ideas as you work.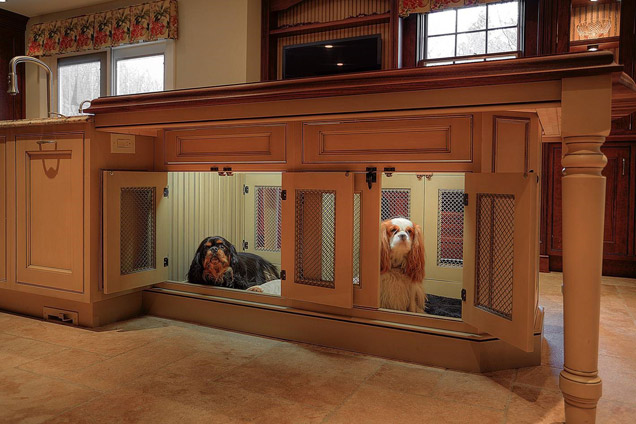 Hardwood Flooring
One of the easiest ways you can make your pet feel at home in the kitchen is by installing flooring that will safe and comfortable for it to walk on every day. Carpeting, especially loose varieties like shag, can get caught on a pet's nails and foot pads and cause it to get injured. However, hardwood flooring like wood or tile is easy to walk on, safe for your pet's nails, and also easy to clean up if your cat or dog leaves dirty footprints behind it.
Sleep and Play Areas
People who own cats know how difficult it can be to keep their feline friends off the table and counters. Cats and even some dogs like to jump up on the counters and tables to take a nap or be closer to their humans. With that in mind, you can dissuade this behavior by designating pet sleep and play areas in your kitchen. Taking the door off a cabinet or siding off a kitchen island and putting a bed inside will give your pet a place of its own to sleep. Likewise, putting a cat tree or even shelves on the wall for your felines to climb and play on will keep them off your tables and counters.
Food Storage
If your pet genuinely is a part of your family, you will want to find a way to feed it along with your kids and spouse in the kitchen. While your family dines at the table, your pet can munch on its own food when you create a pet-feeding drawer just for its needs. This drawer can contain your pet's food and water dishes and slide out during mealtimes. After it is done eating, you can slide the drawer back to keep the pet food out of sight.
Pet Safety
Of course, allowing your pet in the kitchen should entail some safety measures as well. Cats, for example, are often adept at opening cabinet doors that are not locked or hinged securely. Dogs can jump up and accidentally turn on loose stove burner knobs. You can prevent accidents and your pet being hurt by pet-proofing your kitchen. Installing catches on the cabinet doors, using knob covers on the stove, and even using small appliances that can be installed directly under your cabinets can keep your kitchen intact and your pet safe.