What is a Blind Corner Base Cabinet?
If you buy our unfinished or custom cabinets online and plan to install them yourself, you need to know how to handle the corners where two rows of cabinets meet. One option is to install a diagonal corner cabinet, such as a Lazy Susan, with a door in the corner. However, a more standard approach is to have the two rows meet at a 90 degree angle. With this approach, a blind corner base cabinet is installed such that a portion of the corner cabinet is hidden by the one adjacent to it. The hidden section provides storage without giving up space in a corner.
What is the Cabinet Pull?
Installing a blind base corner cabinet requires a minimum and maximum "pull." You must "pull" the blind cabinet a certain number of inches from the wall to create proper clearance for the door and drawer to open without interfering with the adjacent cabinet.
Measure the pull distance from the wall to the opposite edge of the blind corner base. The number of inches left over between the wall and the cabinet is known as dead space. The need to pull a blind base cabinet from the wall is what makes it unique in how it functions, since no other cabinet type requires this.
In addition, you usually need to add a 3" filler strip to join an adjacent cabinet to the blind corner base while leaving enough room for the doors and drawers to open properly. Without this filler, the doors and drawers that meet in the corner may be too close and will hit each other when opening.
Attach the filler to the stile of the blind base cabinet. The stile is the vertical strip of wood that extends beyond the door and drawer in the direction of the open blind side.
In the aerial view below, you will see an example of a blind base installed and labeled with what is required for it to function properly. Here we have shown both the minimum and maximum pulls.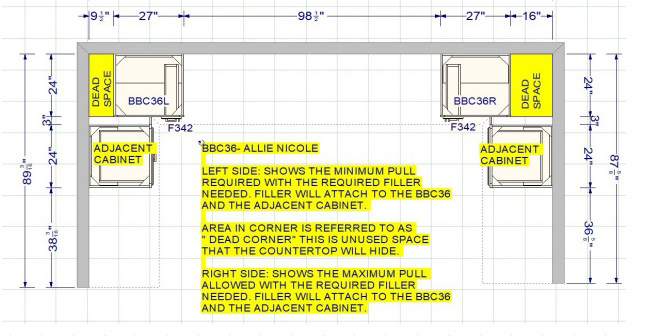 Minimum vs Maximum Pull
The amount of stile that is visible depends on how far the blind base cabinet is pulled from the wall. See below a visual of how much stile will be seen based on the respective minimum and maximum pulls applied. If the blind base is installed at minimum pull, you will see less of the stile. Alternatively, if it is installed at maximum pull, you will see more of the stile.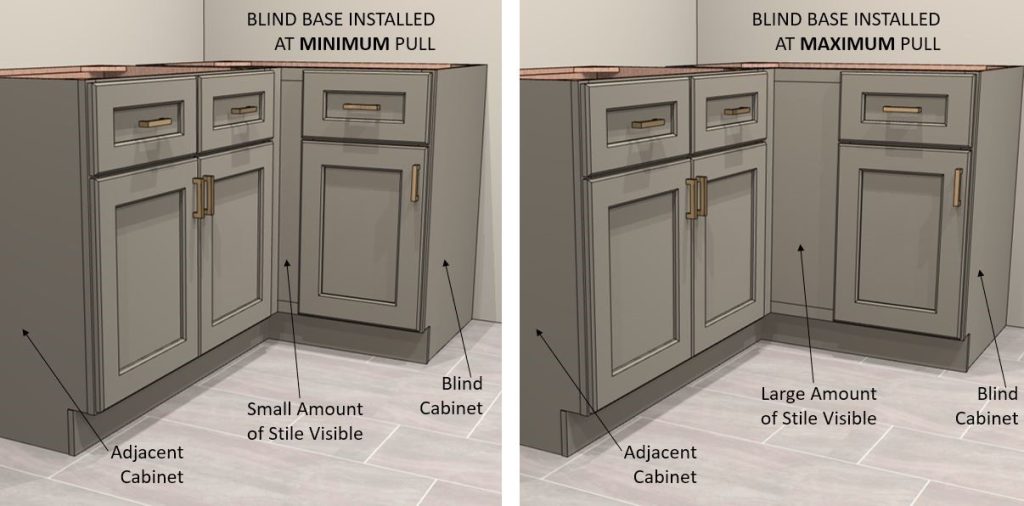 In the images below you will see examples of blind bases with built in clearance installed and what is required for them to function properly. Most blind base cabinets are not made this way, but it is possible to have them made to extend all the way to the wall to make maximum use of corner storage space. However, it may be hard to reach all the way into the corner.