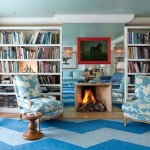 Are you thinking about incorporating a custom bookcase into your home? These units are versatile and multifunctional, adding character and functionality to your space. We'll discuss the various ways these units can enhance your living space.
Office
Do you need a home office with custom office furniture to work at home or just to have a place to set up a desktop computer? Custom bookcases are ideal for such workspaces, especially to homeowners who own a significant number of books. These shelves can hold more than books and offer the perfect way to display collectibles and memorabilia. Our bookcases can also be made with doors or drawers to serve as concealed storage units or file drawers.
Living Room
Floor-to-ceiling units are particularly attractive and provide significant display and storage space in the living room. You can also choose to design your shelves with fluting, arched tops, and even lighting, making the pieces part of this location's architecture. Bookcases can flank an entertainment console to create a larger entertainment system.
Nursery
More and more parents are also deciding to incorporate custom bookshelves into a child's nursery. This is largely because the cases offer plenty of space for storing and displaying items. They often remain a key room feature as children grow. Be sure to secure it to the wall to make sure a toddler does not climb up and tip it over!
Basement Pantry
Basements are good for just about anything, but they are especially good for storing extra packaged food items, holiday dishes and servers, and kitchen equipment that is not currently in use. Why cram your kitchen full with items you only use a couple of times a year?
Interested in a Custom Bookcase?
Now that you've thought about some of the common locations for these units, browse our selections online or contact us to discuss your unique needs with a professional. We've served the thousands of customers for many years and our highly-trained contractors always deliver expert design advice, quality workmanship and seamless installation. Big job or small, you can expect us to have the knowledge, skills and equipment we need to complete it quickly and efficiently. You can also count on us for built-in entertainment centers, storage systems and kitchen/bathroom cabinets.