Are you curious about the latest kitchen design trends? If so, you'll be interested to learn about this year's biggest trend; it's all about transitional design, which is helping people bridge the gap between traditional and modern style kitchens. Most people want simplified and streamlined kitchens, but not everybody wants to jump right into the modern style. If you're wondering how to kick-start a transitional kitchen design, read on.
Blending Materials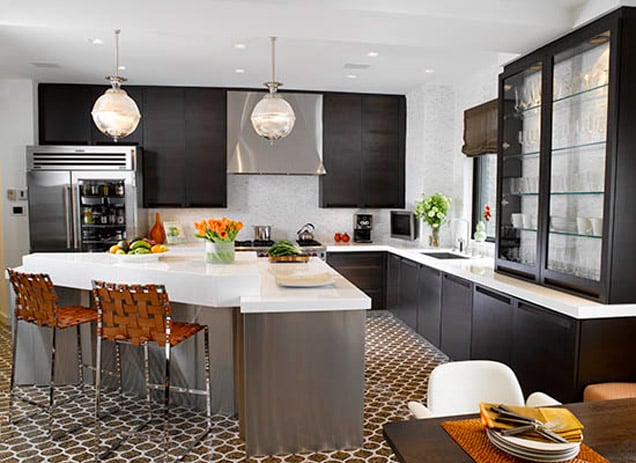 A telltale sign of transitional kitchen design is the blending of materials. In traditional kitchens, you usually find primarily wood and stone. In modern kitchens, you find a lot of steel and glass. Transitional kitchens have it all; you might encounter a wood floor, concrete and marble countertops, and a stainless steel fridge. It's industrial, but still has a warm feel to it.
Neutral Color Scheme

You don't want to dull down your kitchen with bland wall colors, but you do want to go for mostly neutral colors in varying shades. Transitional kitchens have a feel of timelessness and sophistication and neutral colors tend to reflect that best. Of course, don't be afraid to put in some popping colors here and there, especially if it doesn't jar the senses. Different shades of brown probably offer the best start when trying to find the best colors for this style.
Good Texture

Taking liberties with texture can add to the fun of creating a transitional style kitchen. Transitional design still comes off as intriguing, despite its simplified nature. This can help make up for the seemingly subdued feeling of the colors at first. It's part of what's so special about transitional style kitchens; they don't shock you at first, but the closer you get while inspecting them, the more impressed you become.
You can use cool tile surfaces with interesting patterns. Try putting polished stone surfaces in one area and rough stone in others. You'll find endless possibilities.
Streamlined Cabinets

You'll generally notice low profile cabinets in transitional kitchens. There's not an abundance of intricate design or fancy hardware on the cabinets in here. This sounds similar to modern style, but using materials like wood for all the cabinets helps keep you from getting too close to modern. The goal is to make things feel uncluttered by getting rid of the fancy, while also keeping your kitchen inviting by using warm, earthy materials.
Keeping the Balance of Old and New
Creating a balance between the old and new styles is key; you could even say it defines transitional design. It starts off by borrowing elements from past styles and mixes them with new, contemporary features to create something refreshingly different. The best part of the design is the freedom to choose where and how to mix these two to create your own unique balance. It's a great way to express your lifestyle without feeling like you have to conform to one side or another.
Don't fall out of the loop with design trends; if you like what you see, give this design a try. Whether you have a modern or traditional kitchen, a transitional kitchen design might be just a few steps away.