Planning a Bookcase Order
Ordering Bookcases Online:
Prices and customization options are available on the web site.
To find them, click on the links in the "Products" section to the left side of the page (including
Custom Bookcases
).
Look for this box at the left: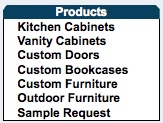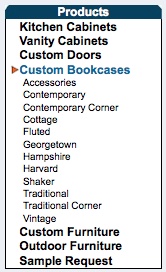 Click on the subcategories of interest and, when you find an item of interest, click on the name of the item to see the available options and order. If you can't find the exact size bookcase that you need, click on the name next largest size and then choose from the available customization options.
It is important to plan and measure carefully before placing an order since all items are custom built and cannot be returned (
see our return policy
).
Step 1: Measure your space exactly
If you will be installing bookcases between two walls, you need to know exactly how wide that space is and whether or not the walls on each end are perfectly flat and perpendicular to the back wall. You will probably find imperfections in the drywall that may reduce the size of your space by as much as a half an inch. If you want a built-in look, you can leave a small gap between the bookcase and the wall (to ensure it will fit) and cover it using your own molding. If you request to have the bookcase sent with crown molding loose (unattached), you can then raise it up to cover the gap between the top of the bookcase and the ceiling (or use your own molding).

*** Important Measuring Note: Please note that if you are buying a single tall bookcase, you will need to leave some space at the top so that you can tip up the bookcase without hitting the ceiling. For instance, with 8-foot (96-inch) ceilings, a 12" deep bookcase will need to be about an inch smaller. Here is the formula to figure out how high the bookcase will reach when it is tipped up. Add the square of the bookcase depth with the square of the bookcase height and take the square root and this will tell you how high the bookcase will get when it is tipped up. So, a 95"H x 12"D bookcase will extend 95.75" high when tipped up--just right if you have 8-foot ceilings. A 95"H x 16"D bookcase will extend 96.33" high, which is no good. You will need to make it 94.5"H or less. Formula: Max height when tipping up = Square Root of (Depth2 + Height2).
Step 2: Plan your layout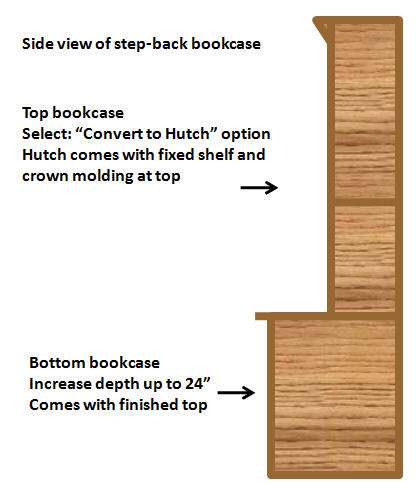 Review the
bookcase options page
to ensure you are familiar with your choices and your customization options. If you want to have a base that is deeper than the rest of the bookcase, then you will need to buy two separate bookcases. The base unit is usually 30"H or 36"H and will come with a 3/4" thick finished top that adds to the stated size of the bookcase (so a 30"H bookcase is actually 30-3/4"H). The top unit should be converted to a hutch so that you don't waste space at the bottom. If you add a lower door kit to a hutch, an additional rail will be added to the bottom to provide stability for the doors when closed.
Step 3: Decide if you will need flush sides
If you plan to put several bookcases together, or against a wall, you will want to make them "flush" on one or both sides. This will eliminate the trim from the sides and ensure that the trim on the front is cut flush with one or both sides. Corner bookcases already come with flush sides. If you plan to use a Plasma TV cabinet or other piece of furniture in between bookcases to create an entertainment center, you will need to request flush sides on them too. If you have any special requests, please write a note in the comment field before submitting your order.
Step 4: Select the right size bookcases
Keep in mind that a Woodcraft bookcase smaller than 72"H will have an extra 3/4" finished top that will add to its height (this does not apply to Arthur Brown bookcases). So, for example, a 48"H bookcase will actually be 48-3/4"H. However, if you convert a bookcase into a hutch, it will get crown molding around the front and sides instead of the finished top, which does NOT add 3/4" to the height. If you need a custom bookcase size, just choose a bookcase that is larger than the size you want and request that it be reduced in size to the dimensions you want (no additional cost). There is usually a field in which to make this notation, but if not, send us an email or make a note of this in the comment field before submitting your order.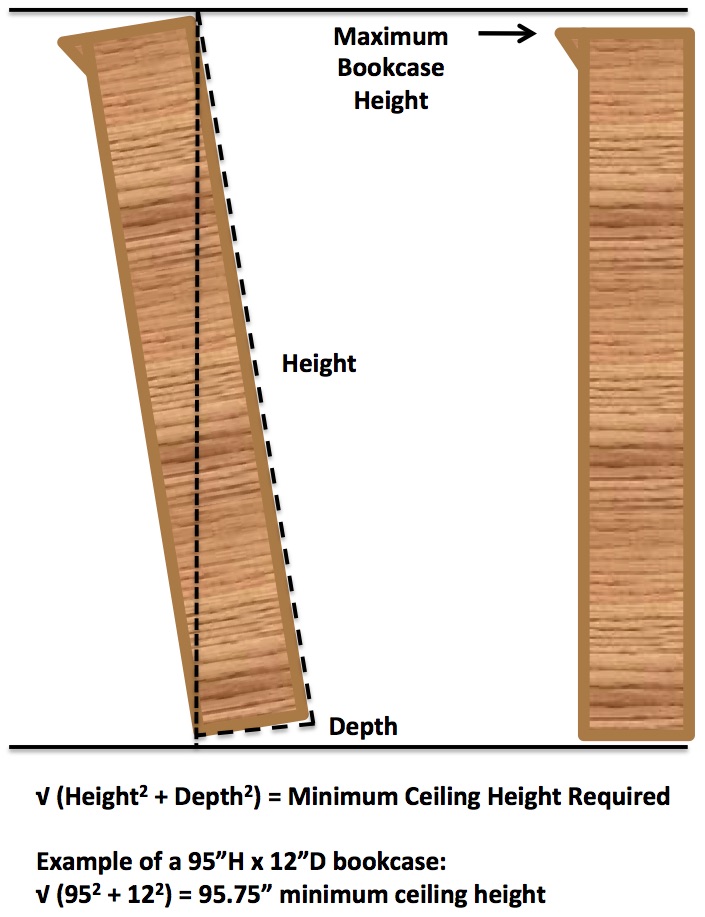 Notes for Woodcraft bookcases: