Delivery Timelines
Unfinished items: usually 4-6 weeks
Stained or painted items: usually 6-8 weeks
We submit orders to the factory twice per month. Orders for pickup at our Baltimore warehouse are submitted on the 5th and 18th of the month. Orders shipped to other locations are submitted on the 11th and 25th of the month. Unfinished pieces will then usually be custom made and shipped in about 3-5 weeks, while stained or painted pieces will usually take 5-7 weeks. This can sometimes slip if there is a backlog at the factory. Delivery may take from 1-7 additional days, depending upon your location and delivery truck schedules. So, the overall time for receipt of an unfinished order will usually range from 4-6 weeks and a finished order will usually take from 6-8 weeks, depending on when you place the order.
Shipping Options
Shipping is a significant cost in the distribution and sale of cabinets and furniture. When you buy products at a retail store, the shipping costs are already built into the price, so you don't know how much it really costs. The factory is located in Bellefonte, Pennsylvania, so the farther away you live, the higher will be the shipping cost. Here are your options, in order from least to most expensive:
You will be notified by email of an estimated shipping date as well as when your order ships. If the delivery is to a local freight dock, we will send the address for pickup.
Option 1: Have your items delivered via UPS. This only applies to items that are small enough to meet the UPS weight and size guidelines for a regular package (which is 114 inches or less in length plus girth before we package it).
Option 2: Have your items delivered to a freight terminal in the continental US nearest to you where you can pick it up. Cost: FREE for orders over $1500. For smaller orders, there is a minimum freight cost, but it may be higher depending on your location. The smaller the order size and greater the distance from Pennsylvania, the higher will be the shipping cost per piece, so this option is not very cost effective for small orders.
Option 3: Have your items delivered to your home anywhere in the continental US. Cost: Fixed price for orders over $1500. For smaller orders, there is a minimum freight cost, but it may be higher depending on your location. The smaller the order size and greater the distance from Pennsylvania, the higher will be the shipping cost per piece, so this option is not very cost effective for small orders.
UPS Shipping Quotes
In general, if the item is 114 inches in length plus girth or less (before packaging), it will be fairly inexpensive to ship, but there may be an extra charge for "dimensional weight" if the cubic size of the package (LxWxH) is more than 5,184. If it is is more than 114" and less than or equal to 149 inches, it is considered a large package, which we will not ship since it increases the cost and risk of damage. Kitchen wall cabinets the following sizes or smaller will be small enough after packaging and thus acceptable to ship via UPS: 24"W x 30"H x 12"D, or 21"W x 36"H x 12"D, or 18"W x 42"H x 12"D.
Small Order Freight Shipping Quotes
To get a freight estimate on an order under $1500, we prefer that you submit an order online so that we have all the details we need. You do not need to pay immediately. Even if you do submit a payment, we will not proceed with the order until we first get your approval of the shipping costs. If necessary, send an email to customerservice@highlandsdesigns.com with the information we need, which includes the following: your city and zip code, the exact item numbers, quantity of each, and type of wood for each. We need this information to determine the weight of the order, the number of pallets that are required to ship them, and the cost to ship to your location.
Return Policy
All products are built to order and cannot be returned for a refund. Orders can only be cancelled if we receive notice with sufficient time to stop the manufacturer from starting production. Please check your order to ensure you have not made any mistakes. If you have any questions or need further information, please contact customer service before placing the order or request that we review the order and select the payment option "invoice."
Freight Receiving and Claims Instructions
1. PLEASE INSPECT THIS SHIPMENT IMMEDIATELY UPON RECEIPT.
2. PLEASE SIGN TO ACKNOWLEDGE YOU RECEIVED THE CORRECT NUMBER OF ITEMS.
3. The freight carrier has acknowledged the receipt of this shipment from our facilities in GOOD CONDITION. By your acceptance of the shipment from the carrier on the bill of lading, you acknowledge that the product has been delivered in GOOD CONDITION. We cannot be responsible for loss or damage if you give the carrier a clean and clear receipt.
4. If any shortages or damages are discovered upon delivery, MAKE A NOTATION FOR DAMAGE AND/OR SHORTAGE ON THE BILL OF LADING with a representative from the carrier present before accepting the order and INCLUDE THE DRIVER'S SIGNATURE.
5. If there is a significant amount of damage, you can refuse to accept the shipment and notify us so we can have it returned to the factory for replacement.
Claims for Shortages or Damages
You must receive the shipment in accordance with our shipping and receiving guidelines, and you may be required to submit information verifying the damage. These guidelines are set by our freight carriers, so failure to comply will result in loss of compensation.
1. Unconcealed damage and/or shortage: Claims can be made only when it is indicated on the freight carrier paperwork AT THE TIME OF DELIVERY. The claim must then be reported to us by fax or e-mail within three days. Claims will not be approved without the proper paperwork signed by the Customer and the Transportation Company.
2. Concealed damage: Claims for damage that was not visible during delivery must be made within three days of delivery. To substantiate claims with the shipper, we require photos of the damage and the product must be made available for inspection by the carrier if needed.
What to Expect When You Receive Your Order
Please note that unfinished cabinets or furniture may require some minor attention to prepare it for finishing. For instance, you may need to use some extra-fine sandpaper to remove any hanging strands of wood from the comers. You may also want to fill in any visible nail holes with wood putty, although any such holes will be very small and almost unnoticeable. In some cases, the wood may contain minor defects that can quickly and easily be corrected with sandpaper or wood filler. We will not accept returns due to such minor issues since they are easily corrected and the cost of replacing the item is very high. We will attempt to correct other defects in the least expensive manner, to include supplying replacement parts, if applicable.
Major defects or damage caused by the freight carrier that cannot be easily corrected will quality for replacement. If you discover such defects or damage, we require that you fill out a damage claim and provide clear photos of the damaged parts.
Directions to our Baltimore Warehouse
You can pickup your cabinets and furniture at our warehouse in Baltimore, Maryland to avoid additional shipping charges. We can also arrange for home delivery from the warehouse to nearby locations in nearby Maryland, Virginia, Delaware, Pennsylvania or New Jersey, but it might be less expensive to request direct freight delivery to your home or business. Click on the maps to go to Google Maps for an interactive map and to obtain directions from your location. You will not see a sign for Highlands Designs since we use a third-party warehouse. The address, phone number, and hours of operation are as follows:
Charm City Warehouse 701-705 Chesapeake Avenue Baltimore, MD 21225 Hours: Monday - Friday, 8AM - 5PM Warehouse: 410-925-7113 (for pickups only) Telephone Directions to Warehouse: 410-355-0096 Customer Service: 410-878-6289 (please leave a message for callback)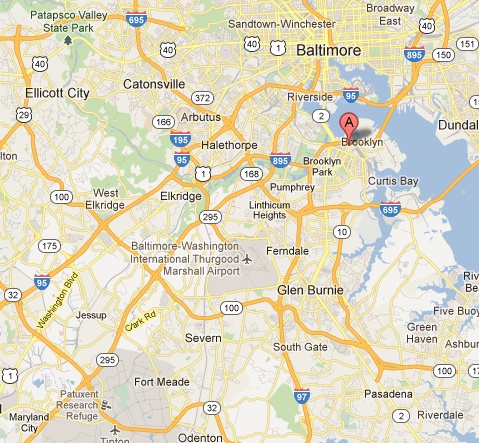 Directions:
Take Route 95 and take Exit 50A for Caton Avenue headed South (East)
This exit is just north of Route 695 (Baltimore Beltway)
Bear left onto West Patapsko Avenue and travel about 3.2 miles
Travel about 1.3 miles and turn right onto Benson Court
Turn left onto S. Hanover Street and go about 0.1 miles
Turn right onto Chesapeake Ave; the warehouse will be 0.6 miles on the right